If you like what you've read, want to let us know about an organization or cause doing the best for humanity or have an idea for a Best of Humanity article, please connect and contact us
Tim Hobbs
Co-Founder of Best of Humanity
Tim Hobbs is a Co-Founder of Best of Humanity and the founder and CEO of Data Connect Corporation. He has gained a solid reputation among colleagues and customers alike as an information technology executive with a rare combination of strategic insight, operational expertise, and technological and collaboration skills. Tim earned a Bachelor of Science degree in Physics and Nuclear Engineering from Colorado School of Mines.
He has been actively involved in Spiritual Philanthropic work for many years. Tim has traveled world-wide in his far-reaching mission to bring Spiritual teachings and helpful technologies to South America, Africa and Asia. His outreach ministry includes being a leader in multiple organizations that are trying to help the world in may ways. He also hopes to continue developing leadership training programs for business groups and the corporate community.
Miranda Clendening
Best of Humanity Co-Founder
Miranda is a Co-Founder of Best of Humanity.
Tim Hobbs and I have worked together for 10 years volunteering in our community and helping at multiple charity events, working with youth, and helping in the best ways we can to interconnect religious and spiritual groups that are doing great things for the world. I am also a mother and have been a foster mom as well and that's my favorite job. I am also a labor and delivery and hospice nurse and have an extensive background in working with different technology applications. I have been the director of multiple nonprofits in the past and helped set up a holistic patient care center in 2009 to 2012. I have helped with the planning of many events including The Jane Goodall Institute's International Day of Peace events every September 21, the Earth Day celebration in Boulder, a recent event on the presentation of spiritual values at the United Nations, and many more throughout the last 10 years. I have been a public speaker at many events around the country for 15 years as well. I have written values curriculum for multiple organizations that is use with families and after school programs in Spiritual groups and with the general public in the school systems. I absolutely delight in meeting new people and have a great hope for the bright future of this world to come. We see so many people coming together now in a more unified voice and wanting to work together, which is a huge inspiration.
Adam Apollo
Education Core Group Leader, Transformational Technologies Core Group Member
Adam is an incredible asset to our Visionary team… http://adamapollo.info/contact/
Consistently building alliances, expanding and empowering networks, researching and developing new physics and technology, as well as teaching workshops, speaking at events, healing and creating, Adam Apollo is a multidimensional Earth Guardian dedicated to achieving planetary sustainability. He has over 10 years of high-level design experience, both for print media and the web, and has also served as a top Sales Manager of three Bridgestone/Firestone stores for almost four years before his own business development achieved liftoff.
Adam is founder and Executive Director of Access Granted, a multimedia educational resource development company. Access Granted is designed to provide advanced technology, ecology, and body-mind education in urban locations around the world through publicly available integrated centers and high-tech facilities. It is also the central hub of a massive network of "Agents" dedicated to Planetary Transformation and Healing, many of which have developed their own organizations and companies to be of greatest service to the changes currently happening on the Earth.
Before creating Access Granted, at the beginning of the new millennium, Adam co-founded and developed the C.O.R.E. (Consciously Organized Resonant Essence) community resource center in Western North Carolina. Later, he also co-created the Tribes Club, a venue for large-scale events ranging from educational seminars to late-night dance parties. At these locations, he helped to raise thousands of dollars for local non-profits. Often, a benefit party would be thrown without the organization's knowledge, and the money raised simply presented as a gift. Also, many local-community education programs were established at these locations, including dance classes, technology seminars, Mayan time-science workshops, music production courses, creative art classes, and much more. Many of these successes helped to further develop and refine the Access Granted business plan and portfolio.


In 2004, he was invited to be the youth representative at an Elder's Council, where he joined sweat-lodges, kept a sacred fire, held ceremony, and engaged traditions of over 60 Elders from all over the world. With the Daykeeper of the Maya, the Chief of the Lakota, Dakota, and Nakota Sioux (19th Generation Keeper of the White Buffalo Peace Pipe), Hopi Elders, Wasak, Cherokee, Navajo, the Leader of the Hawaiian Sovereign Movement (descendent of King Kamehameha), and many others, he did Earth Healing, Blessings, Clearings, and solidified alliances for the road ahead.


After this, Chief Arvol Looking Horse's (White Buffalo Peace Pipe Keeper) daughter invited Adam to help her create the "Prayer Run for World Peace," for the Summer Solstice of 2005, creating teams of youth runners from the four corners of North America: Canada, the West Coast, Mexico and the Southwest, and the East Coast. Graci Horne and Adam ran with an Eastern group of youth from New Hampshire to the Black Hills of South Dakota, converging with the other three runner groups for the 10th Annual World Peace Prayer Day Ceremony (which finally returned to this continent after being held in Iraq, Costa Rica, South Africa, and other international locations for the past 7 years). They completed the run again in 2006 from Vancouver, BC to Anchorage, Alaska, gathering for the first World Peace Prayer Day ceremony to be held in the "crown" of the West Coast on the Summer Solstice.
Following his prayer run in 2005, Adam went to Burning Man for the first time. After a major past-life karmic clearing, he remembered lifetimes on other planets before his journey to Earth. With this new knowledge and awareness, he made contact with a Galactic communications network, and was physically greeted by a Galactic Ambassador who was not human, but had many similar features. After a testing process, he was shown how to open an Astral Stargate, and he traveled into a massive Astral chamber where he met Ambassadors from 73 species of the Galactic Council. With them, he completed a review and assessment of humanity, determining whether or not the people of Earth were ready enough to be initiated into becoming an interplanetary member species of the Galacitc community. Fortunately, it was determined that a critical mass had been reached, specifically of people who were open to massive comprehensive planetary change, and who have the capacity to completely change their state of being and way of life though immense beauty and inspiration. On that date, September 3rd 2005, a seven year initiation process for humanity was commensed.
Traveling frequently after these experiences, Adam has established a substantial international network, maintained through online communications and teleconferencing, and laid the framework for multimedia educational resource centers to be developed in urban locations internationally.
As a researcher and inventor, Adam is the visionary behind a new network interface, originally designed by him to model advanced structural models of energy in theoretical physics that would apply to both principles of Loop Quantum Gravity and Superstring Theory. This CORE Network interface can form an innovative front-end to revolutionary new "Web 3.0" technologies, including OpenID (XDI) and advanced ratings systems. For this development, he has assembled a team of top programming experts and advisors. These strategic partners include the developers of IBM's web-based product launch systems, Gap's online infrastructure, and systems for Citibank, America's Bank, OnForce, SonicNet, and more. He is currently doing fundraising for development of this open-source system.
In addition to theoretial physics, Adam has also engaged in amateur genetics and epigenetics research over the past ten years. His study of information systems is highly relevant to an understanding of genes, the fundamental encoding of DNA and the chemical switches that allow those codes to affect the development of species. As a Board Member of BioVision 2020 Adam offers insight into the potential density of information that can be contained in genetic and epigenetic systems, and the potential issues that may arise from genetic manipulation with our current lack of a complete systems understanding.
During 2007, Adam primarily focused on helping to forge Campaign 2020, a visionary platform created to help bring together the constituencies and capacities necessary to achieve a sustainable planet by the year 2020. Initially, he completed work on a contractual basis as an advisor and technology consultant for the 2020 Fund, a 501c3 housed under the King Baudouin Foundation US. For the first half of 2007, he served as Chief of Business Development for 2020 Strategies, one of the central partners helping to steward the launch of the Campaign, building strategic partnerships and bringing Campaign 2020 to major event platforms including SoL's Business Forum on Innovation in Sustainability and the International Symposium on Digital Earth, where Adam was the keynote speaker of the Gala Dinner.
Following this period of organizational work and development, Adam brought his focus back to training and empowering communities. After moving to the San Francisco Bay Area, he began leading Jedi Training Intensives, advanced self-development workshops that explore the metaphysics and applications of alchemy, magic, martial arts, guardianship, energy work, and much more. He helped to create several magical and ceremonial events at Isis Oasis, an Egyptian temple, retreat center and endangered animal sanctuary. Also at this time, he founded Future Culture, a series of focused private events for community development, networking, and exchange.
After becoming deeply inspired to share more about humanity's interplanetary future and destiny, Adam created the Galactic Family Network in 2008. As a small social network, the site was developed with the intention of sharing the simple facts regarding the extraterrestrial presence through history on Earth, as well as experiences and insights from individuals who have had personal encounters with UFOs, Starships, and extraterrestrial species. During this time, Adam also began to speak extensively at conferences, festivals, and major forums on the future of humanity and possible forthcoming technological and social changes.
In 2009, Adam transitioned most of his web design and development work into Jovan Thunder Design, a collaborative venture with his close friend and high-priestess Kaia Ra. With Kaia, he began to develop a network for Appa the Dancing Elephant and a series of other small websites with a high-level of social media interaction and e-commerce.
Adam Apollo was invited to a Next Generation Leadership Summit at the White House in 2010, where he met and spoke with many White House aids and leaders of a variety of large government programs. He met with other youth leaders from around the world, many of whom are the heirs to some of the largest family fortunes on the planet. Other attendees included young leaders and directors of successful venture funding networks, social media companies, ecological restoration NGOs, and more. Following the 2010 Summit, Adam reconvened with many of these leaders for a NGL Strategy session in San Francisco.
After helping to design a complete site and aid in the organization of the Alchemeyez Visionary Arts Congress, Adam and Kathryn "Ka" June founded the Visionary Arts Foundation 501c3 in the early summer of 2011. They set the intention of building connections and fundraising for the development of a full scale Visionary Arts Institute & Museum in California, complimented by a complete online series of educational resources. The Institute would build on the IP developed by Adam at Access Granted nearly 10 years earlier, and integrate the diverse cultural approaches and inclusive demographic framing he developed in the years since.
Adam Apollo was then invited to participate in the Nexus Global Youth Summit at the United Nations and surrounding venues in New York City, joined by Kathryn June. During the Summit, they met with many leaders of all ages, including the Prince of Saudi Arabia, with whom they discussed visionary art and consciousness transformation for over an hour. Through working with the director of the UN event, Adam also procured an invitation to Nassim Haramein, and had him speak on a panel regarding his most recent physics insights and papers. Introductions were also made at that time to help secure financial resources for Nassim's projects and labratory research.
Recently, Adam has continued to build and develop his workshops and presentations, and is in the process of finishing three books (for release in 2012). He has a forthcoming DVD series, upcoming retreats, he is presenting at several conferences, and has major proposals under review for facility development, technology projects, and more. Please contact him if you are interested in investing or otherwise getting involved in these projects.
Adam Apollo is also a martial artist, music producer, DJ, VJ, graphic designer, computer technician, swordsman, and professional massage therapist. He enjoys reading, chess, movies, studying ancient cultures, envisioning the future, and weaving Magic in service of the Source.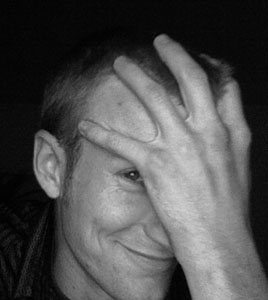 Derek Samaras
Journalist, Videographer, Best of Humanity Core Group Member
Derek is….Mind, Matter, Spirit, Thoughts, Meanings, Values, Science, Philosophy, Religion, Humor, Art, Service.
ZEM
Author
Hello my name is Eric Syverson. I consider myself a student of everything and a master of nothing. I enjoy practicing many art forms like Tai Chi, photography, and sculpture. Being a book worm, reading and writings from worlds greatest authors i find fascinating, The heroes journey has become an underlying principle throughout time and all cultures to be cultivated. Through our own experience, reflections,and transformations we can evolve our consciousness towards a state of universal healing.I have been told that I have a gift at seeing the best in people and in connecting things about their underlying goodness that may not be normally seen or pointed out by most people.
Brooke
Best of Humanity | Solutions Strategist
Brooke's background is in business management, web design, communications and online strategies. Her focus has been helping artists, family businesses, non-profits, the differently abled, and sustainable agriculture entrepreneurs succeed and have their voices heard. She is passionate about social equality, emerging technology, business ethics, environmental awareness and advocating for all the underdogs.
When she isn't hatching a new theory or bringing the next great idea to life, she enjoys finding solutions where others see only problems. She's often found in the company of wild animals and believes we will come to understand the sentience of all beings. While she has yet to discover every question, she's fairly certain love, diligence and critical thinking are the answers. She is guided in life by the Golden Rule.